Homebrew Wholesaler Wine Making Kits,Turbo Yeast, Beer, Distilling Moonshine
Home Brew Wine making kits wholesaler, exporter and manufacturer, recipes, beer brewing, turbo yeast, beer making kits, essences, activated carbon for home winemaking and home distilling. Welcome to Hambleton Bard - the leading European manufacturer and wholesaler of home brew supplies. You will find our beer making products in most homebrew specialist shops throughout Europe - all you need for homebrewing of wine kits and beer or for home distilling of water. Home brew wholesale.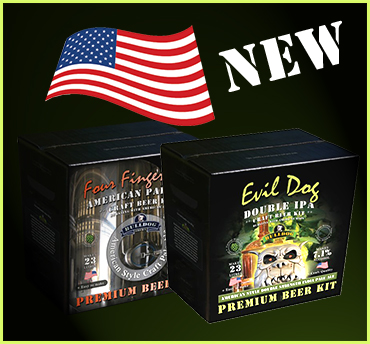 Join the American Craft Beer Kit revolution!
The American craft brewing revolution started in the early 1980's when young and eager microbrewers began experimenting with an abundancy of the more extravagant American hop varieties, often out of necessity as the dominating European hop varieties could frequently be in short supply.

A famous starting point was the Pale Ale from the Sierra Nevada brewery, bursting with American grown hops. In later years, the craft beer market has exploded with new creative brews made in thousands of microbreweries across the US.
American hops - and lots of it
Many of the craft beers are known for their high ABV's, used to stand out from the old past and match the bold hop flavours. Today though, it isn't all about ABV, there is now also a focus on drinkability and balance with more beers at lower ABV's as well.

Before the revolution, powerful American grown hop varieties such as Cascade, Centennial, Simcoe and Chinook would be unheard of in the then common pale lagers. Instead, more subtle hops were often imported from Europe to create low key, middle-of-the-road pale lagers.

Another bold hop variety, originally bred in the 1920's, is Bramling Cross but it was soon forgotten because it's pungent lemon and blackcurrant flavours were not in line with the reigning British beer style. This variety has now made it back into many craft beers. Very recently, a brand new variety - Citra, with an abundancy of citrus and tropical fruit flavours, has entered the microbrewers favourite American hop list.

The US has led the way, introducing some exciting hop flavours in brewing and Bulldog Brews are now proud to introduce the first ever American Craft Beer Kits for home brewing of beers as they have never tasted before. The American Craft Kits are in all good home brew shops NOW!